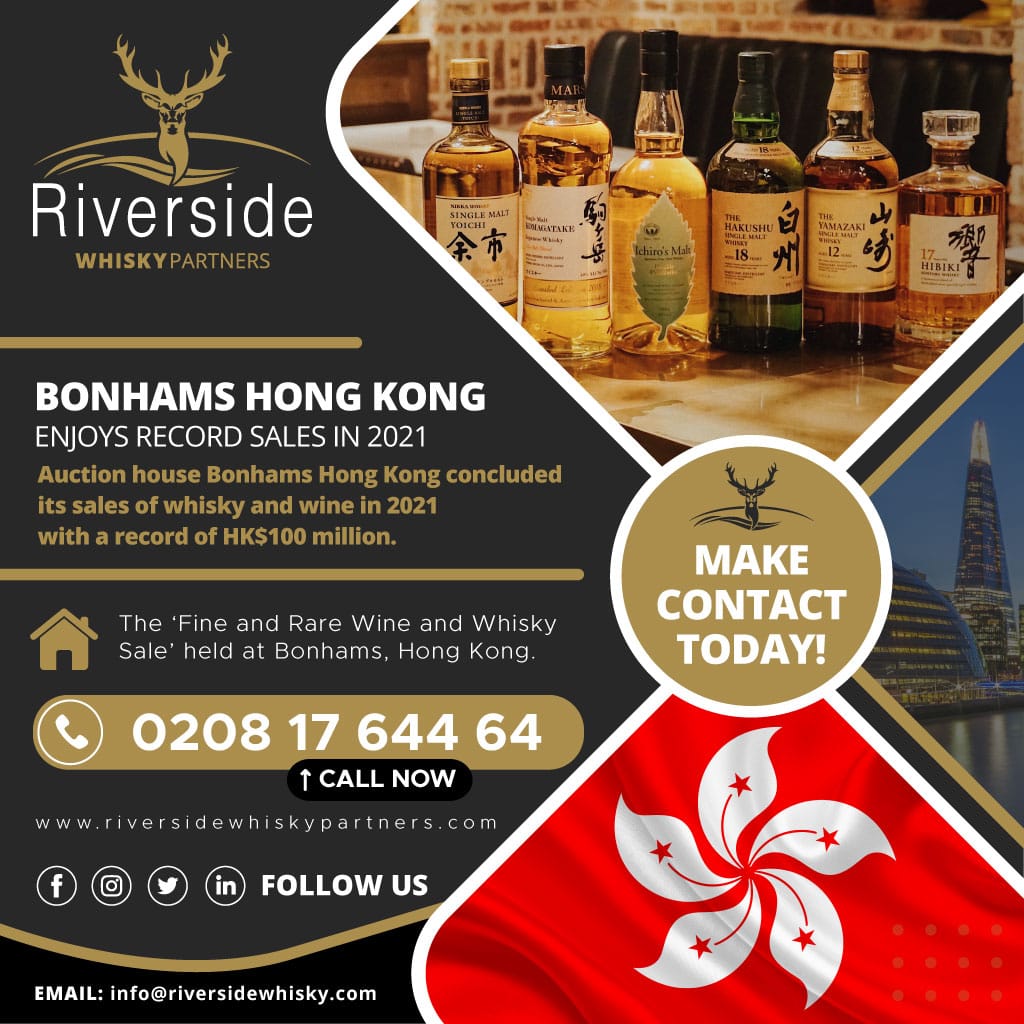 23 March 2022
Bonhams Hong Kong enjoys record sales in 2021
In this article by The Drinks Business, figures strengthen confidence with incredible sales records enjoyed at auctions around the world and Bonhams Hong Kong was no exception to this rule; by concluding its sales of whisky and wine in 2021 with a record of HK$100 million. The 'Fine and Rare Wine and Whisky Sale' held on 19 November in the Hong Kong office marked the finale for the wine and spirits sector of Bonhams. The total sell-through rate is 87%, which realised HK$36.2 million in total.
As reported by the auction house, 94% of Karuizawa whisky lots, which translated to more than 100 lots, were sold in the sale. Totalling HK$16.2 million, this achieved the highest sum realised for a group of Karuizawa at auction. Overall,  more than 90% of Japanese whisky sold.
Amongst all lots, a bottle of Macallan Lalique-57 Year Old was hammered at HK$930,000.
Commenting on the result, Daniel Lam, Bonhams' director of wine and spirits, Asia, said: "2021 has been an extraordinary year for whisky at Bonhams. Our Wine and Whisky sales in Hong Kong, offering predominantly whiskies, have achieved a yearly total of HK$124million, once again hitting the HK$100million milestone since the record year of 2018. The market is clearly resilient, with robust demand for whiskies across all price points, and for Japanese and Scotch whisky alike. We are pleased to continue our worldwide market leadership in whisky and look forward to an exciting year in 2022."
In view of their sales results in 2021, some of the most notable achievements include a classic Macallan Lalique-50 year old sold for HK$1,054,000 in January's Hong Kong whisky sale; In March's auction, 'A Nippon Whisky Collection Online Sale', all 82 lots of Japanese whisky were entirely sold, with more than 60% selling above their high estimates; In May's 'Fine and Rare Wine & Whisky Sale', Bonhams set a new auction record for the Karuizawa 'Samurai' series; In August's 'Fine and Rare Whisky Sale', a Macallan-1991 cask set a new auction record price – the cask yielding 202 bottles sold for HK$4,464,000, marking the highest per-bottle price (HK$22,099) for any whisky cask at auction.
Call 0208 17 644 64 today!
Riverside Whisky Partners notify all approaching and existing clients to contact us as soon as possible, in order to meet the cut-off dates for completion before the festive period begins.
Contact us