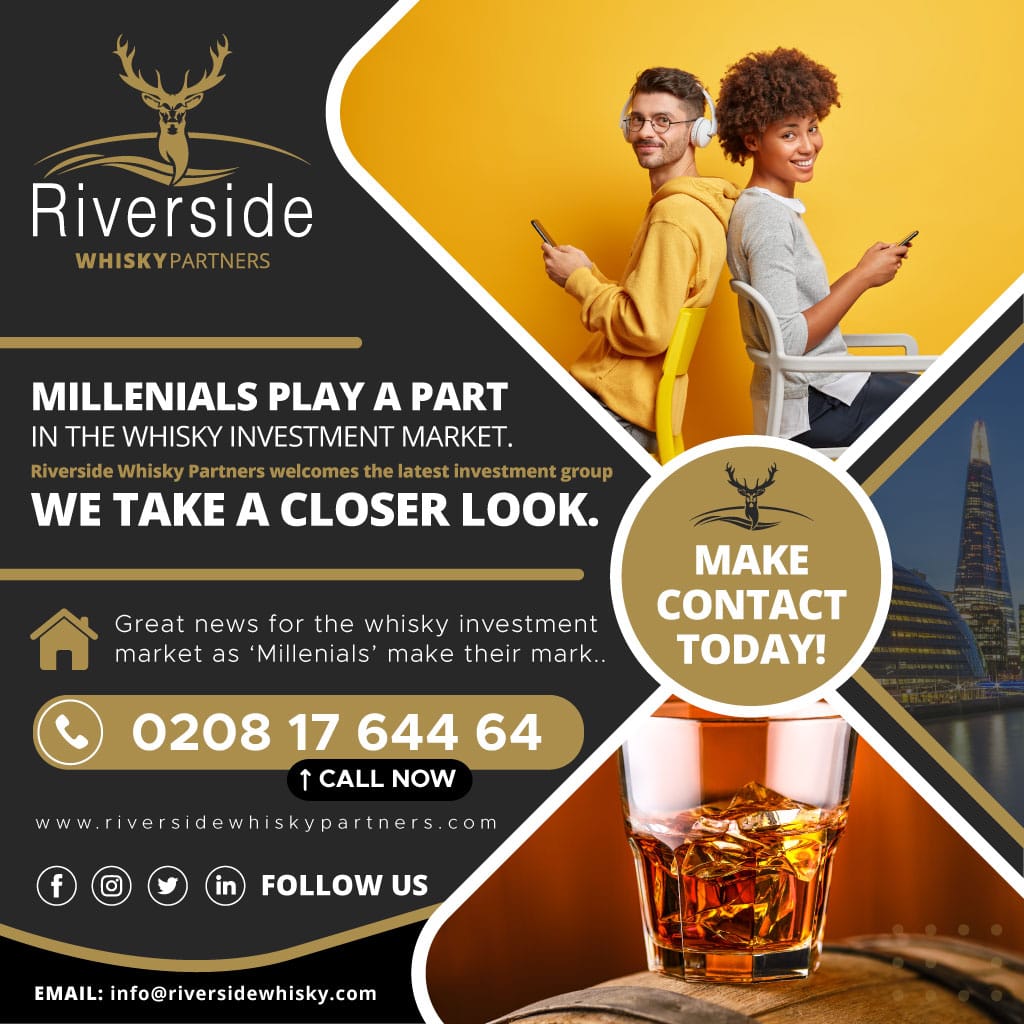 27 December 2021
Millennials Play Their Part in the Whisky Investment Market.
With an investor from one that chooses a single sector to another, that invests across a spectrum of markets. It is prudent not to make sweeping statements regarding money and how it is spent.
Even so, many investors could still find it surprising to know that the whisky investment market is nurtured by the most talked-about generation group known as generation Y or more commonly referred to as 'Millennials'.
With changing habits, it is often said that millennials drink less alcohol than other age groups. But no matter whether it is true or not, indications show a swing from the consumption of lager and wines to spirits; such as whisky.
In a recent white paper by an investment firm a study revealed that of its current clients, 17% are between 35-44 and 11% of their investors are aged between 25-34, meaning one in three are were of the millennial age group. When questioned about other luxury investment opportunities, 64% of clients indicated whisky as their only investment choice and the remaining millennial responders chose other luxury groups that included wines, cars, watches and art.
This insight shows millennials electing to invest in tangible assets instead of traditional investment funds and stocks. Greater ownership powers include access to carrying out their due diligence when contrasting control of their funds to a traditional investment house.
A sure sign that age demographics at auctions is altering towards millennials, adding diversity through the use of technology and social media. Many millennials choose to strengthen their knowledge by joining whisky clubs and trawling the internet for up to date news about limited-edition releases, with some amassing impressive bottle collections from distilleries that include Port Ellen, Brora, Dalwhinnie and Lagavulin. March 2020 saw 54% of bidders at the Sotheby's spirit sale were below 40 years of age. Data from other general shows indicates those aged 50 to 64 are no longer the largest group, making way to those 35 years and under.
What are the possible reasons for millennials to invest in Whisky?
Rather than choose to move on traditional market investments, research has shown older millennials approaching their 40's will have a significant effect on global markets electing to invest in alternative investments. The analysis data from one survey found 65% of millennials had been swayed by the recession, becoming more conservative with their spending. This resulted in them taking less risk by investing in tangible assets like Whisky instead of the stock markets. By taking into account, the shadow of the 2008 financial crisis and recession, growing up in this financial crisis gave millennials insights into the crashing of well-respected traditional investment institutions and firms that lost life-changing amounts of money resulting in less trust.
As millennials came of age and started looking to make investments choices, it soon became apparent the selections their parents may have made with traditional investment paths; were not to be followed by them for fear of history repeating itself in terms of financial loss. Deciding instead to invest in something that offered greater control, ownership and most importantly; understanding!
An understanding that means investing in assets they can relate to such as collectors' cards, clothing, watches and memorabilia. Should there be a downturn in the market, then at the very least they can enjoy or even consume what they have invested in themselves.
Another study concluded 85% of millennials found they were old enough to make investments with the average age being around 28 years. Without taking much risk many millennials are influenced by social aspects which may include investment in principled businesses and sectors, so the traditional image of vintage Scotch whisky could be seen as alluring.
The conclusion is great news for all investors, with the addition of millennials entering this market space. An increase in the demand for whisky casks and rare bottles is to be expected from this well-informed, affluent audience that is ready to spend copious sums of money for the right collectables that include Whisky.
Call 0208 17 644 64 today!
Riverside Whisky Partners notify all approaching and existing clients to contact us as soon as possible, in order to meet the cut-off dates for completion before the festive period begins.
Contact us