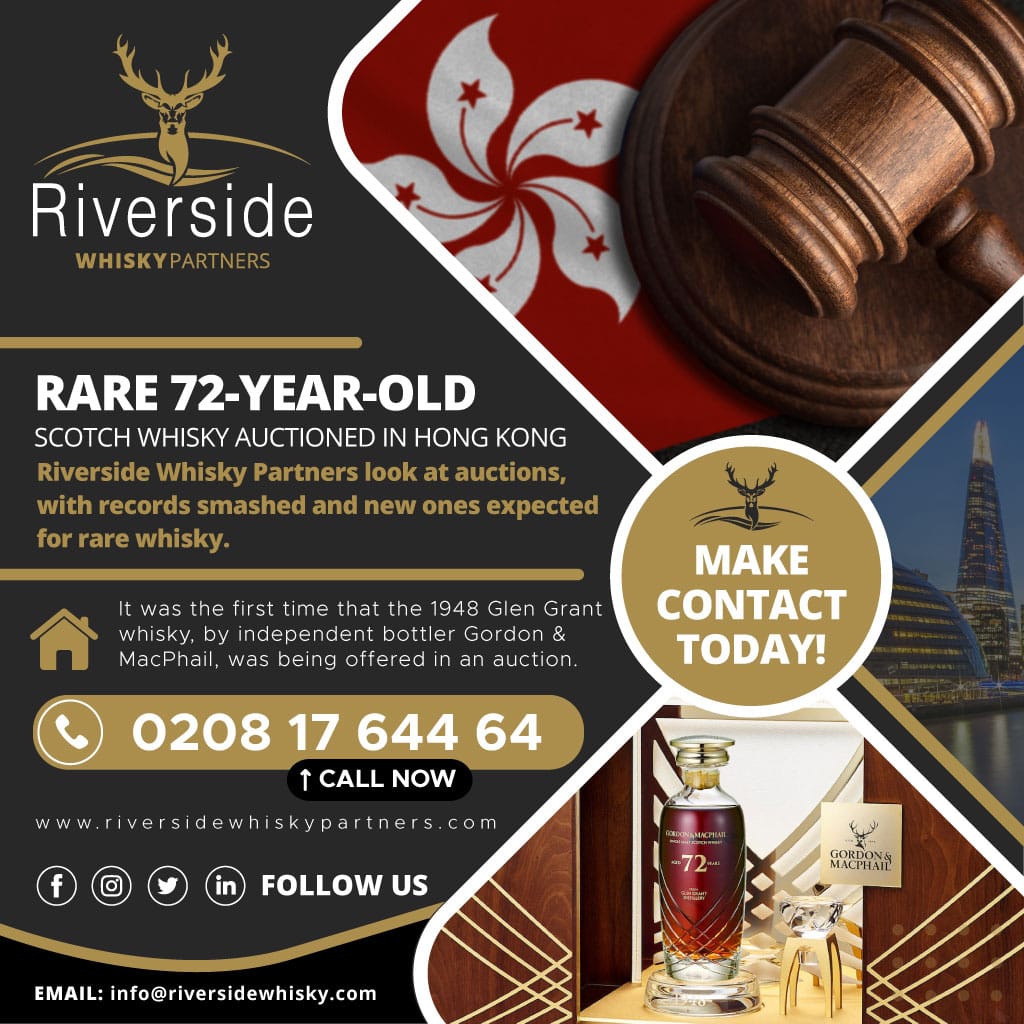 3 May 2022
Rare 72-year-old Scotch whisky auctioned in Hong Kong
Riverside Whisky Partners look at auctions, with records smashed and new ones expected for rare whisky. Our May 2022 series of articles will feature auctions past and future that have and will shape the industry, which we hope you will find informative. We start with an article posted by 'The Independent' back in January 2021.
A 72-year-old bottle of Glen Grant single malt whisky from Scotland was forecast to fetch more than $38,000 in an auction in Hong Kong.
It was the first time that the 1948 Glen Grant whisky, by independent bottler Gordon & MacPhail, was being offered in an auction. Numbered 88 of 290 decanters bottled by the company and were auctioned off by Bonhams with a book estimate of 300,000 to 380,000 Hong Kong dollars ($38,000 to $49,000).
Despite the economic uncertainty brought by the pandemic in 2021, interest in rare whiskies remained high.
Other whiskies featured in the auction included a 50-year-old Macallan Lalique, which was forecast to sell for as much as 950,000 Hong Kong dollars ($122,500), and a 35-year-old Hibiki whisky from Japan in a Kutani ceramic decanter that is estimated to bring as much as 260,000 Hong Kong dollars ($33,500). Bonhams expected to fetch about 10 million Hong Kong dollars ($1.3 million) at this particular auction.
Thanks to our team of researchers, Riverside Whisky Partners managed to obtain the final result of the 1948 Glen Grant whisky, by independent bottler Gordon & MacPhail auction at Bonhams in Hong Kong, which sold for HK$ 421,600 (£ 42,787) or ($58,640) inc. premium
Call 0208 17 644 64 today!
Riverside Whisky Partners notify all approaching and existing clients to contact us as soon as possible, in order to meet the cut-off dates for completion before the festive period begins.
Contact us