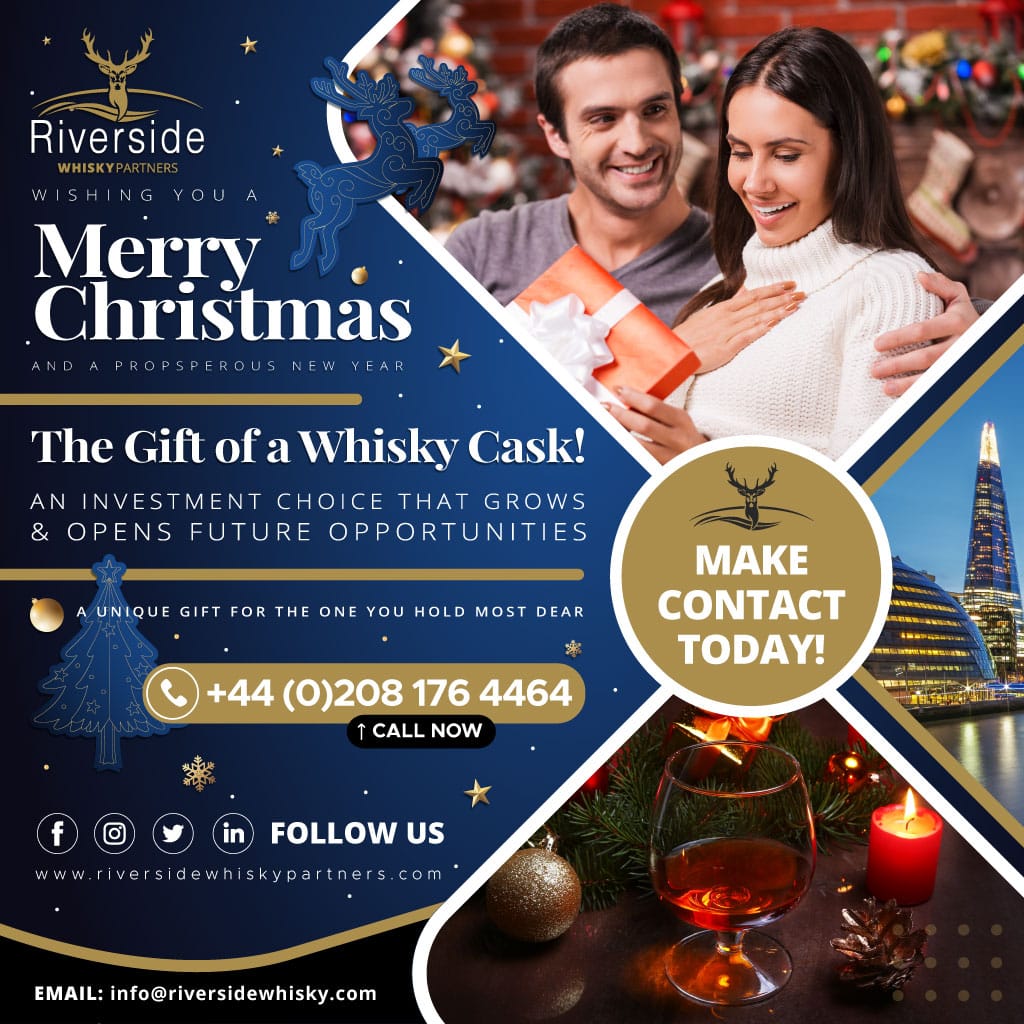 3 December 2021
The Gift of a Whisky Cask
An Investment Choice that Grows & Opens Future Opportunities.
After 2 years in a pandemic, Christmas will have a different perspective for many of us. Alternatives to the usual gift of toys that either break or lose a child's interest, are fast becoming a reality as parents search for more lasting ideas and values.
With Christmas fast approaching, an alternative investment that has remained in obscurity is now becoming the latest buzz for newcomers and bringing incredible results for existing investors from enthusiast to professional.
Whisky: That's right! You would be more than justified to be shocked and correct to think how is this even possible. Yet some of the most esteemed and prominent whisky distilleries offset their costs in storage by offering maturing and limited-edition casks for investment or to be bottled, subsequently offering incredible returns for those willing to play the waiting game.
Whatever the occasion throughout the world, tumblers are raised in celebration during the festive season. One can count on a variation of knowledgeable wisdom from those in the know: "Celebrations do come and go, but the love of Whisky is forever." (see: Alternative Investments)
A press release that's got the industry talking!
With whisky on the rise as a popular drink throughout the world, take it as it comes whether there are more people to drink with or the demand is going up. Sadly for some countries, this means a whisky can sell out or quickly disappear because demand has outstripped supply. Or, to differentiate effects in the industry, the whisky distilleries increase their prices.
In a surprise announcement, the Japanese drink manufacturer Suntory has announced a 28% increase in pricing on certain in-house and imported whisky products, which will come into effect as of spring 2022. Suntory is a company trading within the whisky industry, investing in additional casks and storage facilities to meet increasing demand. Certain brands in Japan have already felt the ripple effect of this announcement, with Glenfiddich 12's pricing taking a 15% rise. This ripple will affect international markets, from bottles to casks long into 2022, indicating an investment in the right whisky casks could see favourable results. (see: Suntory Press Release)
Could 'love and value' walk hand in hand?
Certainly, if human nature could be measured in terms of financial value, then for those that are lucky this value is immense; as it is lasting. Looking at long-term investments as gifts for a child, a grandchild, partner or even a friend could make a difference financially. Given the period of its existence and its robust appeal to withstand economic disruption and uncertainty, whisky remains one of a handful of tangible assets whose future remains extremely bright. Even during the recent pandemic, 2020 exports had a global reach, accruing over £3.8 billion in sales. Projections for 2021 were given another boost when the Biden administration agreed to suspend the 25% tariff imposed on Scotch whisky imports by the Trump administration… Certainly, for children, it will give them a starting point to grow their finance and help educate them in money matters. (See: Global Whisky Tariffs)
An investment for a child today could be life-altering for them as an adult.
The possibility for the future is open to interpretation, for which the choices made today may road map the life of your loved one. With education a priority, university fees play a heavy burden on parents' minds. If not university, then there's the possibility of property ownership and the large deposits usually required when they are old enough to work and obtain access to a mortgage. What if? As an adult, they meet someone and fall in love with marriage now looming. The expense of wedding services could run into tens of thousands of pounds.
These are some examples where investing in whisky could help ease the worry in caring about the future of a loved one. Should you decide to leave an inheritance gift that's different when you pass away, then placing the investment into a trust for your children or grandchildren, could truly give them all the right reasons to remember you as a rock of support in their lives.
"Time is running out as Christmas is just around the corner!"
Call 0208 17 644 64 today!
Avoid disappointment in relation to 'The gift of a Whisky Cask!' promotion. Riverside Whisky Partners notify all approaching and existing clients to contact us as soon as possible, in order to meet the cut-off date for completion in time for Christmas.
Contact us