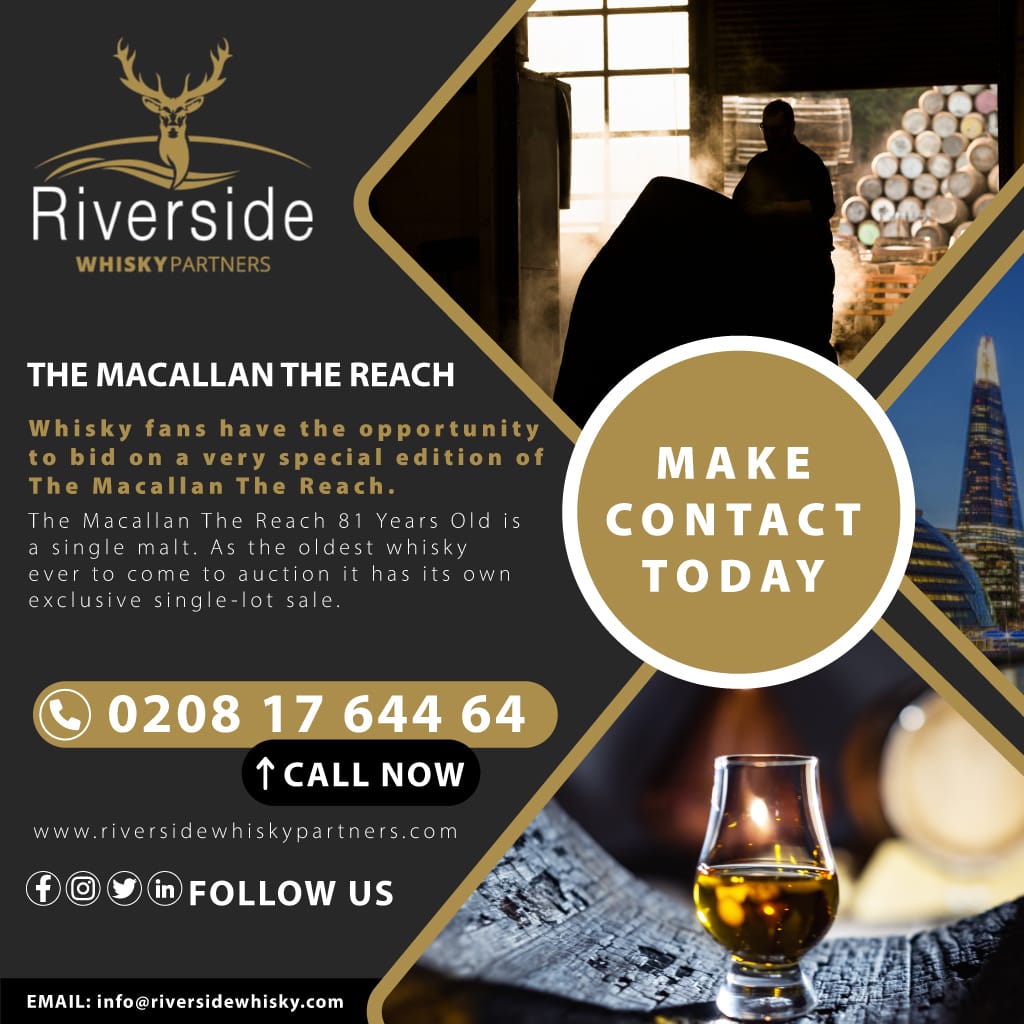 29 September 2022
The Macallan The Reach
Whisky fans have the opportunity to bid on a very special edition of The Macallan The Reach.
The Macallan The Reach 81 Years Old is a single malt. As the oldest whisky ever to come to auction it has its own exclusive single-lot sale.
Estimated at £110,000-£200,000, the auction for the one-of-a-kind whisky, which is encased in a display cabinet lined in red leather, will close on Wednesday, 5th October.
This special edition whisky is being auctioned off to raise funds for The Macallan Artisan Apprenticeship Fund which helps businesses attract and recruit new apprentices and supports generational skills and crafts.
What makes The Macallan The Reach 81 Years Old so special?
The fact that The Macallan The Reach is the oldest whisky ever to come to auction makes it a extremely special bottle indeed. It is also a single malt, which makes it even rarer.
Distilled in 1940, from a single, sherry seasoned oak cask, the whisky was laid down during the Second World War, just before the distillery closed its doors for the first time in its history.
The mouth-blown decanter is a treasure in itself and presented on a bronze sculpture of three hands. The display cabinet is made from a fallen elm tree – said to be from The Macallan Estate – which is lined in red leather paying homage to the red thread that has been present in The Macallan's branding since the distillery was founded almost 200 years ago.
The chance to own a piece of whisky history
The Macallan The Reach 81 Years Old is truly a one-of-a-kind whisky. This is the chance for collectors to own a piece of history while also supporting a good cause.
Whisky lovers won't want to miss out on this once-in-a-lifetime opportunity to own the oldest whisky ever put up for auction.
Call 0208 17 644 64 today!
Riverside Whisky Partners notify all approaching and existing clients to contact us as soon as possible, in order to meet the cut-off dates for completion before the festive period begins.
Contact us