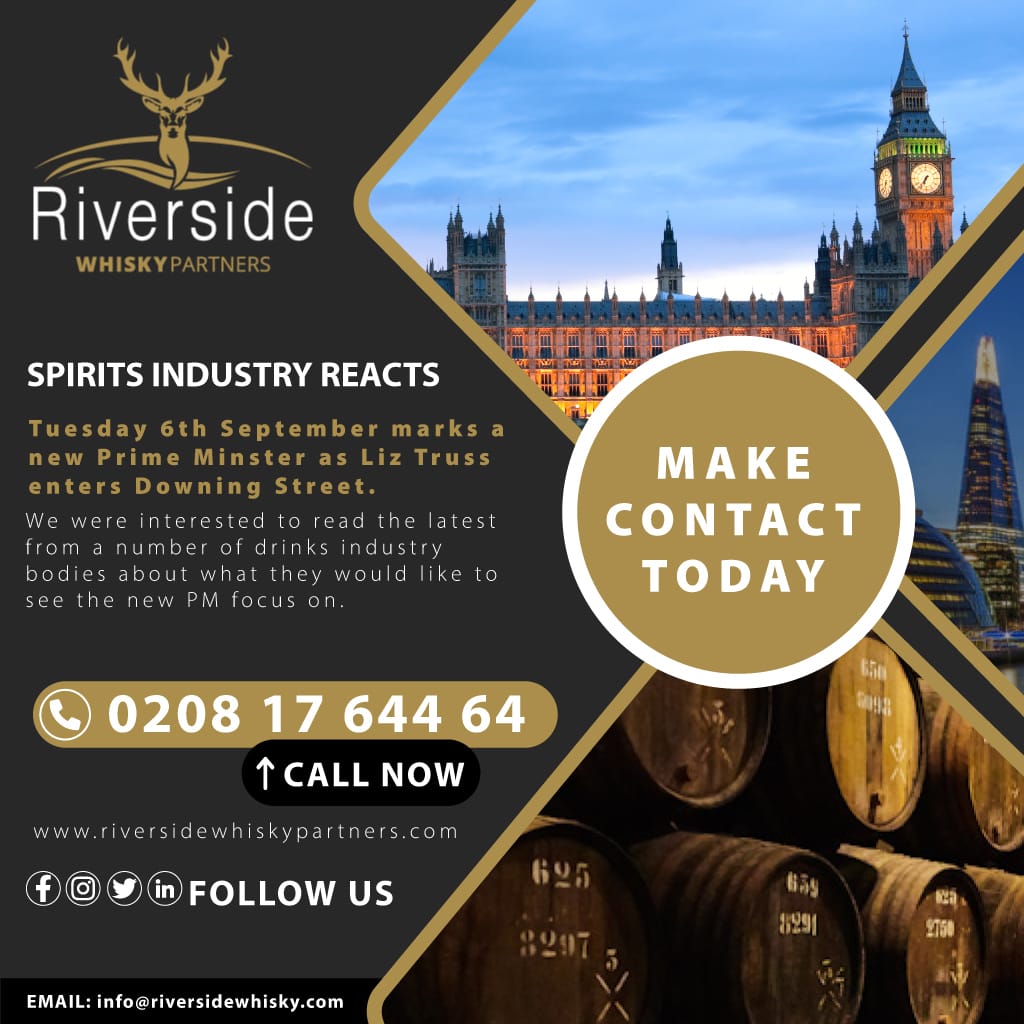 7 September 2022
The Spirits Industry reacts to new PM
Tuesday 6th September marks a new Prime Minster as Liz Truss enters Downing Street. Following a brief speech, we were interested to read the latest from a number of drinks industry bodies about what they would like to see the new PM focus on.
Truss has said that she "will deliver a bold plan to cut taxes."
The views of The Drinks Industry in The Drinks Business article's round up focussed on energy and duties within the sector.  
The Scotch Whisky Association CEO Mark Kent spoke on the planned RPI (Retail Price Index) increase on spirits duty calling on the government to abandon the index whilst proposing: "…an ambitious UK-India free trade agreement which reduces the current 150% tariff on Scotch Whisky would create £1bn of additional exports over the next five years and create 1300 UK jobs."
A UK Spirits Alliance spokesperson was quoted in The Drinks Business article saying: "Looking ahead, we look forward to working with the new Prime Minister and her team to deliver a fair and supportive duty environment for UK spirits – including a freeze in spirits duty at an upcoming Budget – which backs our home-grown distillers right around the UK. This support will be more important than ever as this iconic and vibrant sector works hard to navigate the numerous economic headwinds facing all businesses this winter."
The CEO of The Wine & Spirit Trade Association (WSTA), Miles Beale shared his views on Twitter: "[A Liz Truss] government would be unashamedly pro-growth. This would be good news for the potentially hamstrung but potential-packed, SME [small and medium-sized enterprises] rich UK wine and spirits sector."
You can read the full article by The Drinks Business here with further views from the drinks industry and UK Hospitality sector. 
Call 0208 17 644 64 today!
Riverside Whisky Partners notify all approaching and existing clients to contact us as soon as possible, in order to meet the cut-off dates for completion before the festive period begins.
Contact us