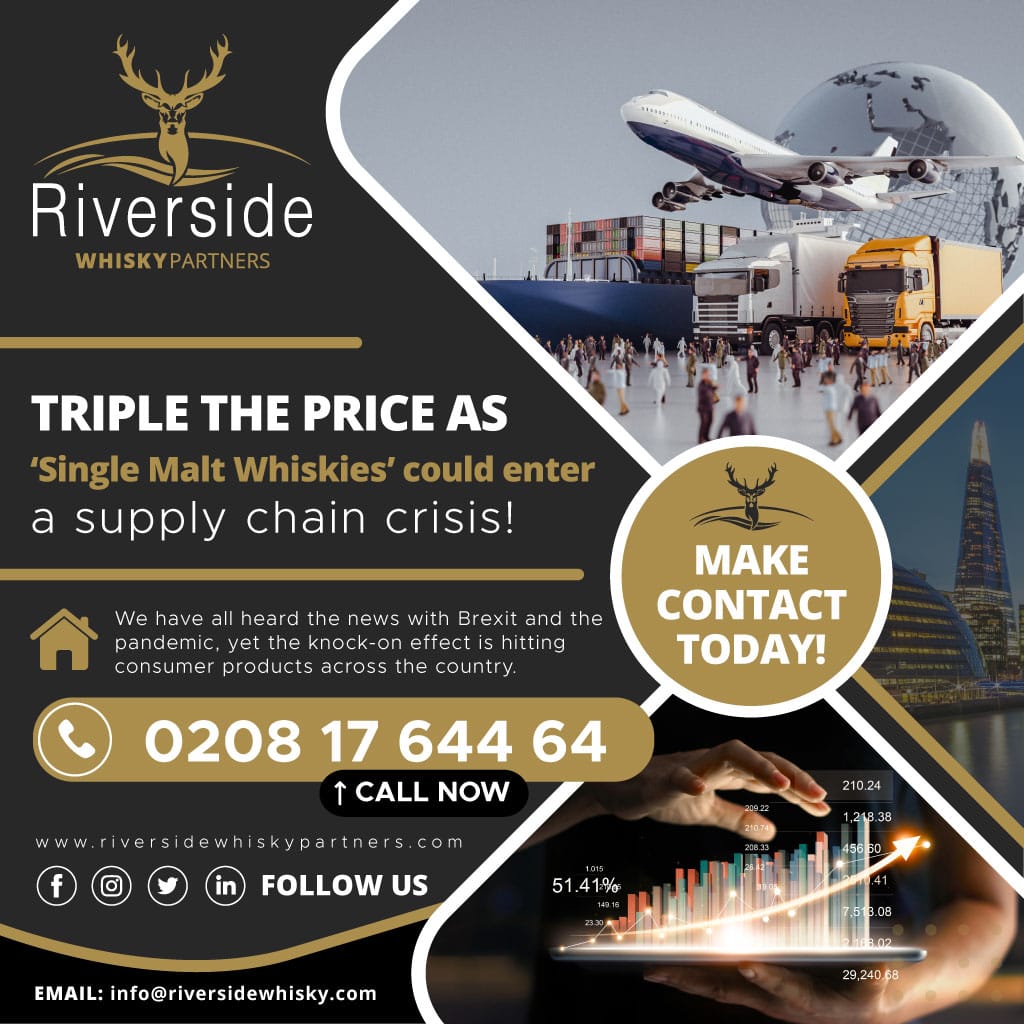 14 December 2021
Triple the price as 'Single Malt Whiskies' could enter a supply chain crisis.
We have all heard the news with Brexit and the pandemic, yet the knock-on effect is hitting consumer products across the country. The perfect storm is building and looks set to hit Scotland's £5 Billion whisky market. Numerous factors come into play and when we take a closer look at them, it all begins to make sense.
So why is this bad for the consumer and rich pickings for the investment market? Many reasons can contribute to price hypes in single malt whiskies, with 'Supply and Demand' as a root key term. But! Where it gets interesting, are the reasons behind it all and in this case; surprising.
During the lockdown, many distilleries were and are still unable to get their liquid into casks. Compounded by Brexit and the inability to obtain glass, caps, cork and cardboard, even sherry casks, these raw components are either unavailable or cannot be shipped due to long delays. The delays appear to be caused by a lack of HGV drivers, containers and jammed ports due to incorrect paperwork for port authorities to give clearance. Even with shipping to overseas markets like China and the United States of America, finding an empty container has become a task in itself.
Other influences to the industry have to account for announcements from importers such as 'Suntory' of Japan, which has a monopoly of major imports that include whisky. A recent press article about Suntory, declared certain branded Scottish Whisky imports including Glenfiddich, Balvenie and Macallan with their 30-year Sherry Oak are to be raised by 28% in 2022.
Overall the implications for the future are not looking smooth for the whisky consumer, with signs pointing towards further price rises. However! From an investor of rare whisky casks, things may have the opposite effect with favourable rates of return and the maintenance of long-term investment percentage increases.

Call 0208 17 644 64 today!
Riverside Whisky Partners notify all approaching and existing clients to contact us as soon as possible, in order to meet the cut-off dates for completion before the festive period begins.
Contact us