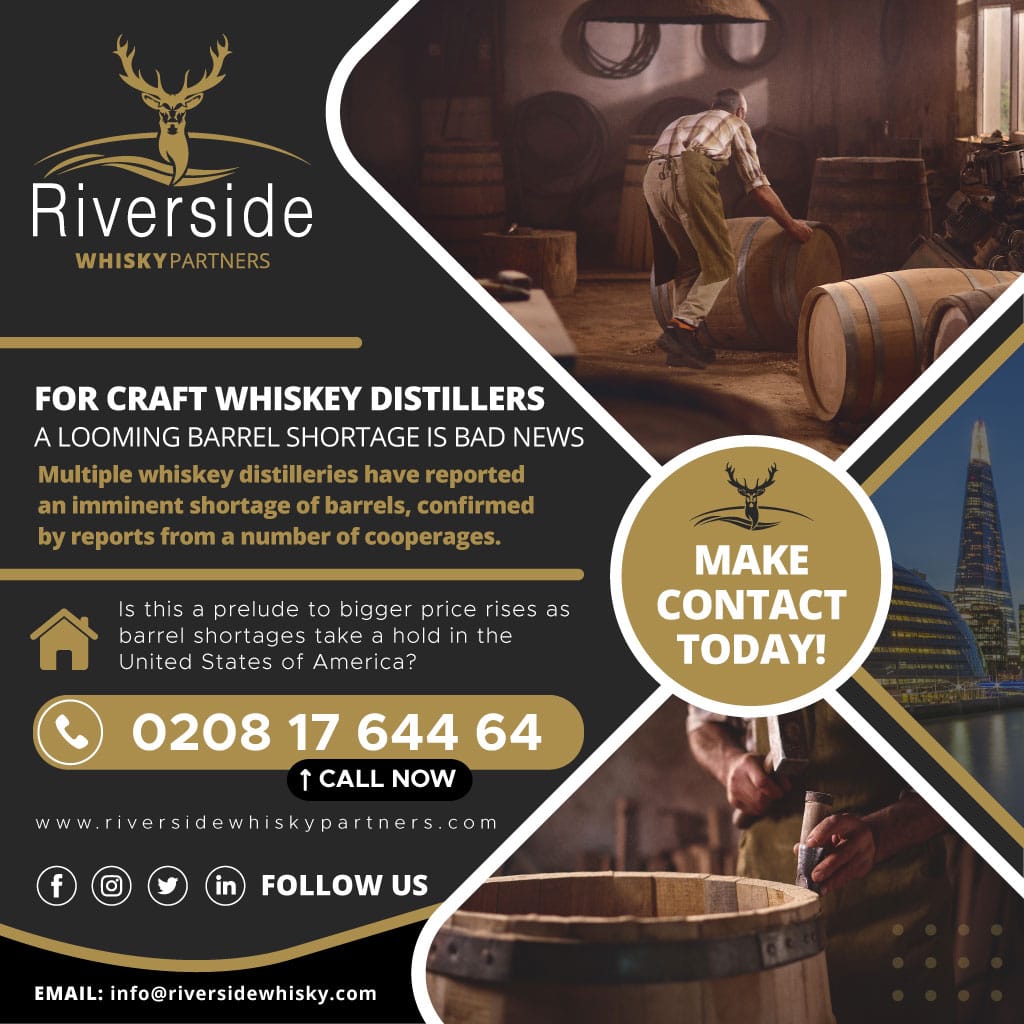 11 April 2022
For Craft Whiskey Distillers, a Looming Barrel Shortage Is Bad News
Is this a prelude to bigger price rises as barrel shortages take a hold in the United States of America? This article posted February 22, 2022 covers the extent of the shortage and the companies affected. However! Riverside Whisky Partners covered a similar shortage in our post on the 14th Dec 2021 at (click here) and in STV in Scotland reported a shortage for cardboard, glass and delivery drivers blamed on Brexit for The GlenAllachie Distillery in Speyside.
Going back to the subject, here are some key points in the article.
No industry has been left untouched by pandemic-related disruptions, and distilling is no exception. From shutdowns and glass shortages to paying more for just about everything, the spirits world has been rocked more deeply than at any other time since Prohibition. And the latest issue may be the most serious yet.
Multiple whiskey distilleries have reported an imminent shortage of barrels, confirmed by reports from a number of cooperages. "It's a looming problem," says Colin Keegan, owner of Santa Fe Spirits. "We were warned by our barrel supplier (Kelvin Cooperage) in December, so we placed our first order of the year as a larger one. It's usually six week's delivery, and now it is six months."
At FEW Spirits, this year's supply of barrels is secure, but founder Paul Hletko has been hearing murmurs about a potential shortage — and they're getting louder. "All our coopers are calling us up, telling us to get our orders in now," he says. "A major barrel crisis is coming."
BARREL SHORTAGE REDUX
"We are definitely entering what I call barrel shortage 2.0," says The Barrel Mill's vice president of marketing, Richard Hobbs, referring to a deficit that occurred about a decade ago across the cooperage industry because of a lack of wood. "At that point … we had to turn away a lot of business, which we don't like, and that's happening again." While cold calling potential customers is a normal part of doing business, Hobbs has lately fielded a rising volume of inquiries from new clients, including "a lot of people that normally wouldn't even answer an email or phone call from me," all of them seeking barrels.
Part of the issue may be as simple as larger distilleries, which make up the lion's share of business for cooperages like ISC, increasing their own barrel orders as production expansions come online. Smaller clients with less buying power often end up squeezed in such scenarios. But costs for oak and steel have gone up — the logging and smelting industries haven't been spared from Covid-related problems either — along with a massive increase in freight and shipping costs.
RISK FOR SOME, OPPORTUNITY FOR OTHERS
As supplies shrink, prices rise, but distilleries desperate for barrels have no choice but to pay up. To compensate for delayed orders and in anticipation of shortages down the line, many distillers are ordering more barrels than they need now. 
Call 0208 17 644 64 today!
Riverside Whisky Partners notify all approaching and existing clients to contact us as soon as possible, in order to meet the cut-off dates for completion before the festive period begins.
Contact us