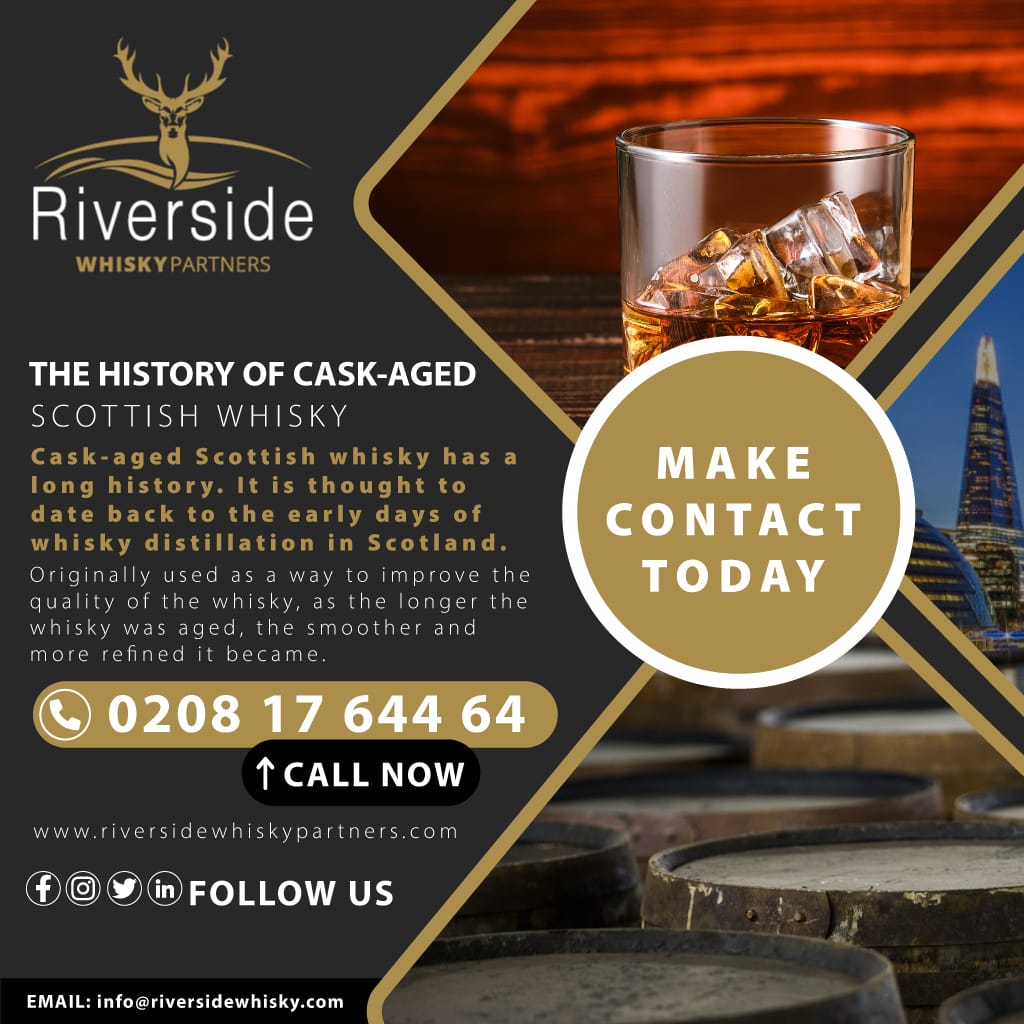 28 June 2022
The history of cask-aged Scottish whisky
Cask-aged Scottish whisky has a long history. It is thought to date back to the early days of whisky distillation in Scotland in the early 15th century.
Cask-aging was originally used as a way to improve the quality of the whisky, as the longer the whisky was aged, the smoother and more refined it became. And, Scottish distillers have been using whisky casks for centuries to give their whisky a unique flavour.
Cask-aged whisky continued to gain popularity throughout the years, and by the 19th century, it had become one of the most popular types of whisky in Scotland.
In 1814, a whisky distiller named Andrew Usher began aging his whisky in used sherry casks, which imparted a unique flavour to the whisky. This method of cask-aging quickly caught on, and soon many other Scottish whisky distillers were using sherry casks to age their whiskies which became one of the most popular casks.
There is a variety of different woods used by Scottish distillers to create their distinctive whiskies, and each type of wood contributes its own unique flavours and aromas to the whisky.
Sherry casks in particular lend a rich, fruity flavour to the spirit. And, the types of casks utilised did not stop there. Whisky may also be matured in barrels that have been specially treated, such as those that have been toasted or charred. In some cases, distillers' have been known to experiment with maturing the spirit in non-traditional containers, such as used coffee beans or even pork fat. Ultimately, the type of cask used for maturing whisky is up to the distiller, and each container imparts its own distinct character to the spirit.
The following are some of the most common types of casks used in Scottish whisky production today:
Sherry casks: These casks are usually made from Spanish oak and previously held sherry wine. They impart a sweet, fruity flavour to the whisky.
Bourbon casks: These American white oak casks previously held bourbon whiskey. They lend a spicy, vanillin flavour to the whisky.
Port casks: These Portuguese oak casks previously held port wine. They add a fruity, tannic flavour to the whisky.
Wine casks: These can be made from a variety of different woods, including French oak, and previously held red wine. They impart a deep colour and rich flavour to the whisky.
Today, cask-aged Scottish whisky is highly sought-after by collectors and investors alike. The long aging process allows the whisky to develop a deep and complex flavour, making it truly unique.
If you're looking for an investment that will offer you financial returns, cask-aged Scottish whisky is the perfect choice.
Call 0208 17 644 64 today!
Riverside Whisky Partners notify all approaching and existing clients to contact us as soon as possible, in order to meet the cut-off dates for completion before the festive period begins.
Contact us